Summer is in!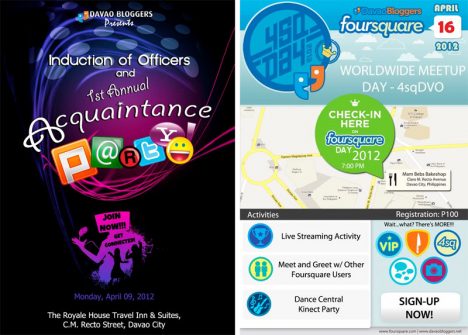 This month, we invite you to join these two cool events!
***
INDUCTION OF OFFICERS and DAVAO BLOGGERS ACQUAINTANCE PARTY
The blogging community of Davao has grown since its inception. On April 9, we invite you to join our acquaintance party to be held at The Royale House Travel Inn & Suites at CM Recto Avenue, Davao City. Also, the new set of officers will be inducted at this event. Event registration is only Php 150. Interested individuals who want to join the organization may register on-site (Php 300 for new members and Php 100 for renewal of membership).
RSVP: https://www.facebook.com/events/411191505561008/
Thanks to our awesome sponsors:
***
4SQ Day 2012
How will YOU celebrate 4sqDay this year? By getting your friends signed up? Leaving tips to all your favorite venues? Be a mayor of a particular place and declare 'foursquare day'?
How about joining us on a fun-filled 'NIGHT' of 4sqDay?!
You may confirm your attendance at:
Meetup Event or FB Event.
… and be part of History together with 1798 OTHER (FOURSQUARE) COMMUNITIES WORLDWIDE!
Big thanks to our awesome sponsors:
Dance Central, games and prizes await the lucky 4SQ users! Snacks will be served!
Please use hashtags #4sqDay and #4sqDayDVO.
See you!
This will be held at Mam Bebz Bakeshop on April 16, 2011 (7PM). Hope we all get the swarm badge for this event! 🙂