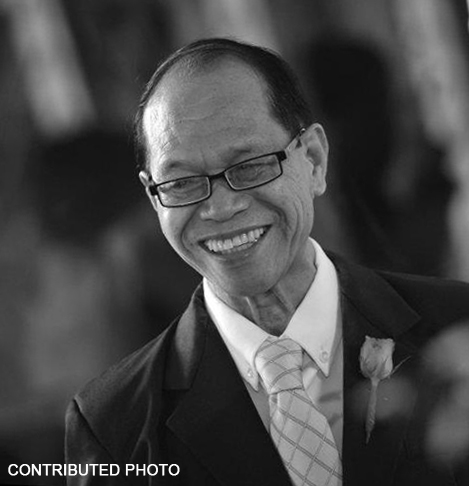 Dr. Warlito Laquihon was a man who can smile about dying and was unafraid of death. Despite being diagnosed with cancer, he continued his advocacies, unhampered by the disease ravaging his body. He was a humble and selfless community man who spent almost his entire life, including its last embers, with those in need.
Though many expressed grief over his passing last year, it was a life well-spent—a life his friends, family members, and those he came in contact with will forever treasure.
Laquihon is a prominent figure in the field of agriculture and research, serving generations of Filipino farmers from small families by sharing useful and practical knowledge on farming systems. For that, he became the Ramon Aboitiz Awardee for Exemplary Individual in the first run of the Ramon Aboitiz Foundation Inc. (RAFI) Triennial Awards in 1999.
For 32 straight years, Laquihon's pioneering programs and projects helped countless lives in the country and abroad. He provided knowledge, especially on farming methods, shared his faith in Christ, and ministered on the needs of the poorest Filipino uplanders.
Best known to farmers as "Warling Laquihon" due to his radio program "Balik Kita sa Uma", he was a natural-born community man, sharing his time, talent, and resources in the development of Mindanao communities.
His diligence, patience, and hard work helped him to stay focused on community development work, which is not an easy job. He walked five to 10 kilometers every Sunday to reach farmers' homes. He crossed rivers and hiked mountain trails. Because he was the "walk the talk" type, he was willing to spend sleepless nights studying and understanding the real situation. He made plans and strategies with the people, and sought solutions with them.
For him, being poor is not a hindrance; it should be an inspiration in pursuing dreams. He knew it from experience, being the eldest of seven siblings belonging to a poor family and having worked as a newsboy to make ends meet. In school and in the community, he was a role model for volunteerism, which started during his college days as a working student and student leader. He taught young children the importance of helping others.
When he came to Midsayap, North Cotabato, he started student-community projects through the Southern Christian College (SCC), and engaged in community work upon seeing the miserable condition of the people. He left his white-collar job as SCC's Dean of Agriculture to join the Mindanao Baptist Rural Life Center (MBRLC) in Bansalan, Cotabato. The spirit of volunteerism and strong belief in God egged him on. He believed that through Christ there would be "abundance", as it is written in the Bible that Jesus "has come that you might have life… more abundantly".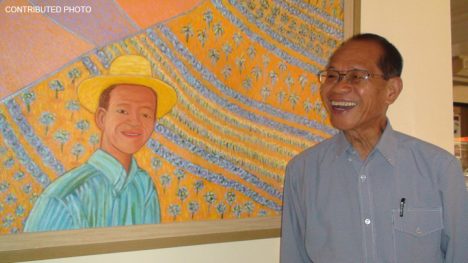 "A life dedicated to God is a life dedicated to the people and the community," he once told his family. His wife Eleanor Sagabaen Laquihon, sons DecxHareland and Janoz XN Yesu, and daughter Psyche June, are very supportive of his calling.  Winning in the 1999 RAFI Triennial Award, which was the awards program's first run, brought encouragement and inspiration for them to do more, to live simple and God-fearing lives, and to help in the development of a more peaceful, loving, and productive community.
When he broke the news to his family members, they saw a smiling man fueled by optimism. Laquihon used the prize money to help restore the land and the people at the foothills of Chocolate Hills in Bohol.
As a researcher, he was very meticulous. He was very detailed in everything, from problems and objectives to methodologies. He also helped his children in their own research works at school on statistical designs and interpretations.
He co-developed with Rev. Rodrigo Calixtro and American Baptist Minister Harold Watson the now internationally-famous Sloping Agricultural Land Technology (SALT).
Today, SALT is a widely adopted agricultural development strategy for the uplands throughout the world. It is a package of technology on soil conservation and on food production. Up to 25 countries in Asia, Africa, and Central America have adopted this method.
At the foot of Mt. Apo in Kinuskusan, Bansalan, Davao del Sur, Laquihon also developed the Mountain Integrated Development and Stewardship (MIDAS) project, the first "natural farming" model in the Philippine uplands. This is a crop-livestock integrated farming scheme that aims to conserve and rejuvenate the soil and make the land sustainably productive. The MIDAS strategy includes the regeneration of indigenous species in the farm plus the integration of SALT.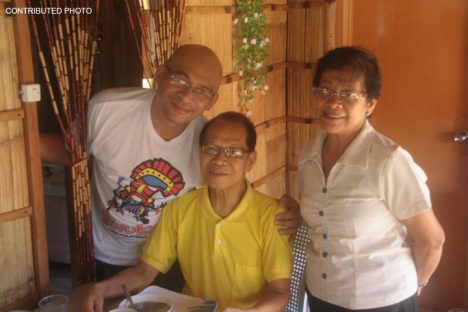 Laquihon used to be president of Mt. Carmel Development Academy; member of the board of trustees of Asian Rural Life Development Foundation, MBRLC, and Kinuskusan Multi-Purpose Cooperative; and treasurer of Bansalan Cable TV and Communications.
His other recognitions include the Distinguished Centralian Award in 1992 and the Marquiz Who's Who in the World in 1996, to name a few.
He also taught his sons that there is fun in acronyms. He named MBRLC's mission as REDEEM (Research, Extension, Development, Education, Evangelism); FAITH as Food Always In The Home gardening; and, BOOST as Baptist Out of School Training program. He called their home Laquihon's BEST (Balay, Eskwelahan, Simbahan, and Tapokanan). His children later called him "Dad Wal", or "Winner, Adorable, and Loving father".
Laquihon was an incomparable father and husband. He led his children in living the Christian way, provided them their every need and showed them their choices in life. He lived the good life. Tragedy, however, struck in 2010 when he was diagnosed with stage four prostate cancer at the age of 67.
Though he was informed by his doctors that he would survive for only six months, he persisted with his mission and fought against the disease. Like a gift from above, he survived for almost two years, continuing to minister on others instead of having others serve him. The disease physically disconnected him from the community, but he always communicated, did follow-ups, and had those he was working with visit him home instead.
The disease inevitably took a toll over his aging body. He could hardly walk. But the family's small bamboo hut in Davao City was a mute witness to how he struggled not to lose contact with the community he cared for. Built per his request, the cozy hut was a place for him to meet with friends and for administrative transactions.
People he touched love and could not forget Laquihon. His selfless acts for the communities he served brought him and his family closer to their hearts. This can be measured by the throng who visited him at his workplace, at home, and even during his hospitalization and his wake.
Up to his last days, his will never faltered. A fan of singing, he belted out the line "Going home, tell all my friends that I am going home" with Janoz XN Yesu a day before he died. (Chrisley Ann Hinayas/Ramon Aboitiz Foundation Inc.)         
____________________________________________________________________________
The Ramon Aboitiz Foundation (RAFI) is now accepting nominations for the 6th RAFI Triennial Awards for the Ramon Aboitiz Award for Exemplary Individual and the Eduardo Aboitiz Award for Outstanding Institution.
Nominations are also accepted from government agencies, non-government organizations, people's organizations, civil society, academe, and the business sector. Self-nomination is discouraged.
Nomination forms should be submitted to: RAFI Triennial Awards Secretariat, 35 Lopez Jaena Street, Cebu City, 6000.
Online nomination forms can also be accessed through RAFI's website at www.rafi.org.ph/event/nomination-form.
Deadline of nominations is on December 15, 2013.
For more information about the RAFI Triennial Awards, please contact (032) 418-7234 loc. 109 and look for Cathy Margate or e-mail catherine.margate@rafi.org.ph, or visit www.rafi.org.ph/triennialawards or www.facebook.com/rafi.org.ph, or follow @rafiorgph on Twitter.