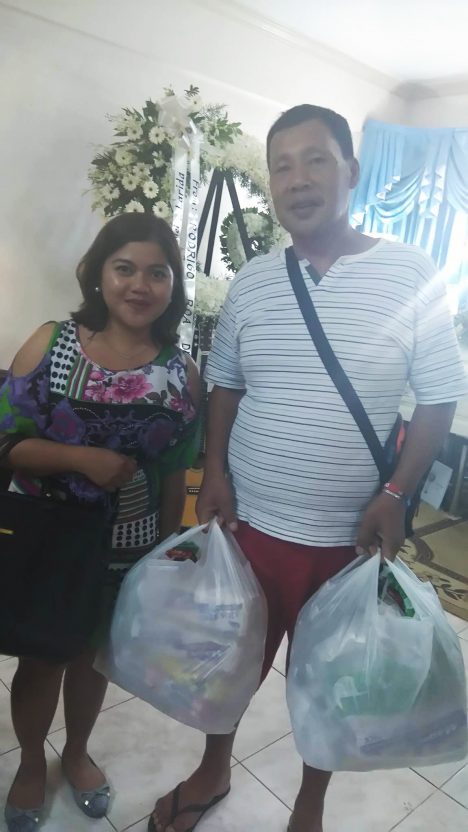 The following is Dennis Larida's account of what happened to him and his family during the Roxas Market bombing on September 2, 2016. Mr. Larida's wife Melanie and son Josh were among those who perished.
One of our officers was able to interview Mr. Larida at his family's wake at Angel Funeral Homes in Calinan. Note that the interview was transcribed from recorded audio and then translated to English.
Here is what he said:
It was not my family's original plan to go to Roxas on our visit to downtown Davao, but rather, to go jogging at People's Park the next day. We were checked into Aljem's Inn, in our room, comfortably lying down on our bed, including my son Josh. Our intention was to sleep early because of our morning jog at 8am. But all of a sudden, my wife Melanie stood up and wanted us all to go to Roxas Market. I couldn't say no, neither did our son.
So we found ourselves in Roxas, ate some food and did a little shopping. My son bought a pair of shoes and wore them right away. We walked until we reached the end of the intersection of (Quimpo) Boulevard. There was nothing else to see there, so I suggested we go back to the Inn since it was getting late. We hiked back towards Claveria. I'm not sure why, but on our way, my wife caught eye of the massage area. She sat herself down and asked for a massage.
To pass time, my son and I roamed around the area where my wife was. My son got tired eventually, and said, "Dad, I want to sit down", and walked towards the vacant seat next to his mom. "Do you want a massage?", a therapist asked me. I answered, "No, maybe just my son." He went ahead and worked on Josh.
After 20-25 minutes, it happened. The bomb exploded.
I went deaf. I could not hear anything. The pain in my ears was unbearable. I looked at my surroundings, and saw everything and everyone on the pavement, except my wife and child, who were still on their chairs. Their chairs stayed up.
I rushed my son. "Son, how are you?" "Dad, I can't breathe." murmured Josh right before he collapsed. I placed him on the pavement
to check on my wife. "Heart, how are you?" "Go pick up my bag and Josh's." I asked her again, "How are you?" "Josh…" I focused my attention back to my child and attempted mouth to mouth resuscitation. I glanced at my wife. She was slumped on her chair because she was hit by shrapnel on her right side. Josh got hit from his back, but the shrapnel pierced straight into his heart. The entry way was small, about the size of the tip of a ballpen. My wife seemingly okay, I focused on our poor son. She's going to survive, I thought to myself.
While waiting for rescue, I was yelling for help and continued to revive my son. A massage therapist approached my wife. He felt sorry for her. "Sir, let me take your wife elsewhere. There may be a second bomb." So he took my wife, while I carried my son to safety as I was also worried about another bomb detonating. She was seated in a more secure area when a mobile called out and asked who among us needed a ride. I said, "Heart, I'll go ahead and take Josh to the hospital. Follow us there." "Yes, take care of Josh first."
I hopped on the mobile and left her. We were first in line as we got to the hospital. The doctors took Josh and started reviving him. After five minutes, my wife also arrived. That was only when I noticed myself bleeding. I was also bleeding so badly, as I held on to my wife's stretcher and her feet. I said, "Heart, we're at the hospital, please take care of yourself."
The doctor attended to her right away. Seeing my wife in good hands, I checked on my son. They continued to resuscitate him. My wife could see our child from where she was, peering at him. I pleaded to her. "Heart, help yourself and keep breathing. Please breathe." I then turned to my son's lifeless body, begging, "Son, please breathe." They already defibrillated him a few times, but got no response. I said, "Doc, that's enough. I feel sorry for my child."
I concentrated on my wife now. "Heart, take care of yourself. Keep breathing." She whispered her last words to me. "I can't breathe." They intubated her to aid her breathing, disabling her speech.
Shortly after, the doctor said, "Sir, your wife's heartbeat has slowed down." I started crying and became extremely nervous. "Doc, please make my wife live!" I can see them trying their best to help her, until they said, "Sir, she lost her hearbeat." That was when I went crazy. They kept resuscitating her. "Sir, her heart had stopped beating.". They picked up the defibrillators, but I stopped them. "No, please, that's enough."
The doctors attended to more patients as they arrived, while I stayed beside my wife. I took off the tube from her mouth, covered her in sheets and embraced her. "Heart, I love you," I told her.
I bid goodbye to my son as well. "Son, Daddy loves you", I said, while embracing him.
I thought I was going insane. We absolutely had no idea this was going to happen. I felt safe since Davao is known to be a secure place.
My wife loved our son so much. I was thinking, had my wife survived this, she will not be able to live a normal life without our son. It will simply destroy her. Maybe God saw what would happen to her someday had she lived.
President Duterte visited the morgue. He kissed my son, remarking that he was the only child there. He asked me what I would say to the bomber. If you were to ask me what I want to say to the bombers, "Cruel. What they did was cruel."
In a split second my whole life flashed before my eyes. It's so painful. I'm all alone now. I don't have a wife or son. I am back to square one. It hurts so much. There isn't a word in the dictionary or encyclopedia that can desribe the pain that I'm going through.
But I know I need to be strong. I want to cry, it's like I'm going crazy. But I have to be strong.
When I'm alone, that is the only time I cry.