It's been over 10 YEARS since Davao Bloggers Society started to nurture the best bloggers in Davao Region. It is the premier blogging organization in Davao, the first in the Philippines. Join the FIRST. Be the BEST. And have lots of fun while learning! Join our Annual Acquaintance Party on Saturday, July 22, 2017!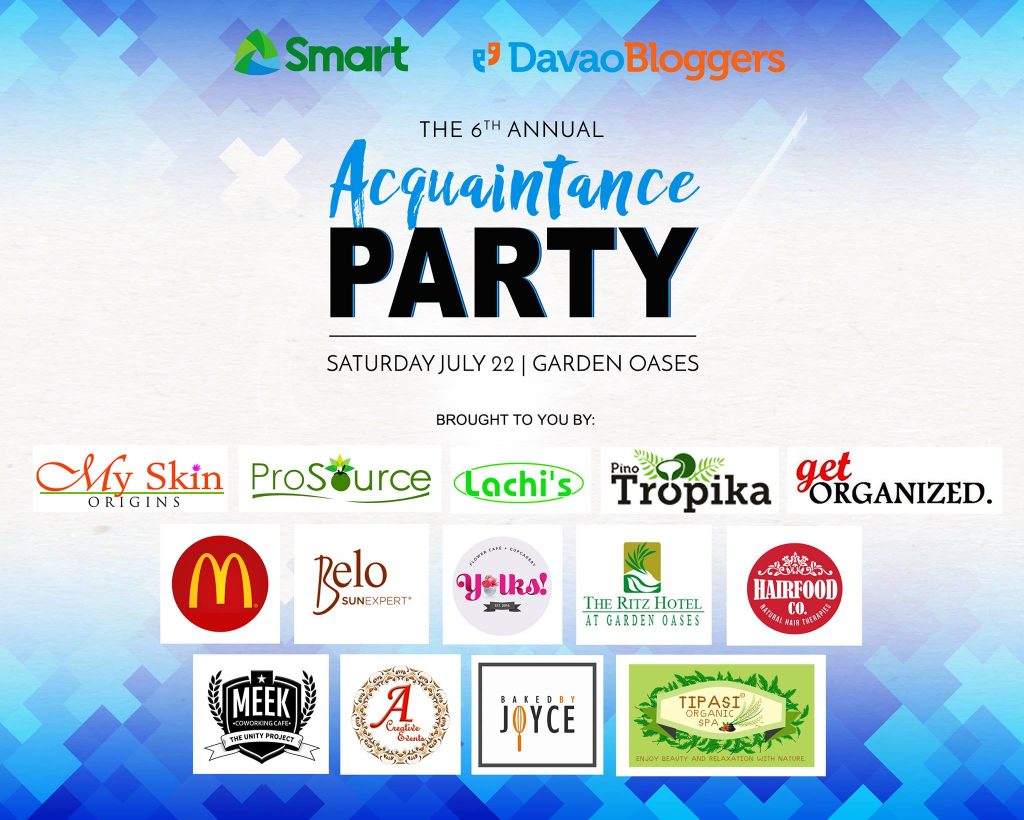 Thank you to our generous sponsors!
Smart Communications, Inc.
My Skin Origins
Pino Tropika
Belo SunExpert
ProSource
Get Organized
Lachi's Sans Rival Atbp
Tipasi Organic Spa
The Ritz Hotel at Garden Oases
McDonald's
Yolks Flower Cafe + Cupcakery
Meek Coworking Cafe
A Creative Events
HairFood Co.
Baked by Joyce
#DBStheBEST #DavaoBloggers #ConnectedDavao #LikeNeverBefore
#MySkinOrigins #PinoTropika
#BeloSunExpert #SunProofed #ProSourceVCO #RollThatStressAway
#GetOrganized #Lachis #RitzHotel
#TipasiOrganicSpa #McDonalds #YolksPH #MeekCoWorkingCafe #ACreativeEvents #HairfoodCo #HealthyHairDays #BakedByJoyce