Celebrate the Halloween season with homegrown stories that will surely capture your imagination and haunt your dreams. Let this year's Davao Ngilngig Film Festival entries take you to a terrifying journey with Filipino barrio tales, horror stories, superstitions, local legends and myths.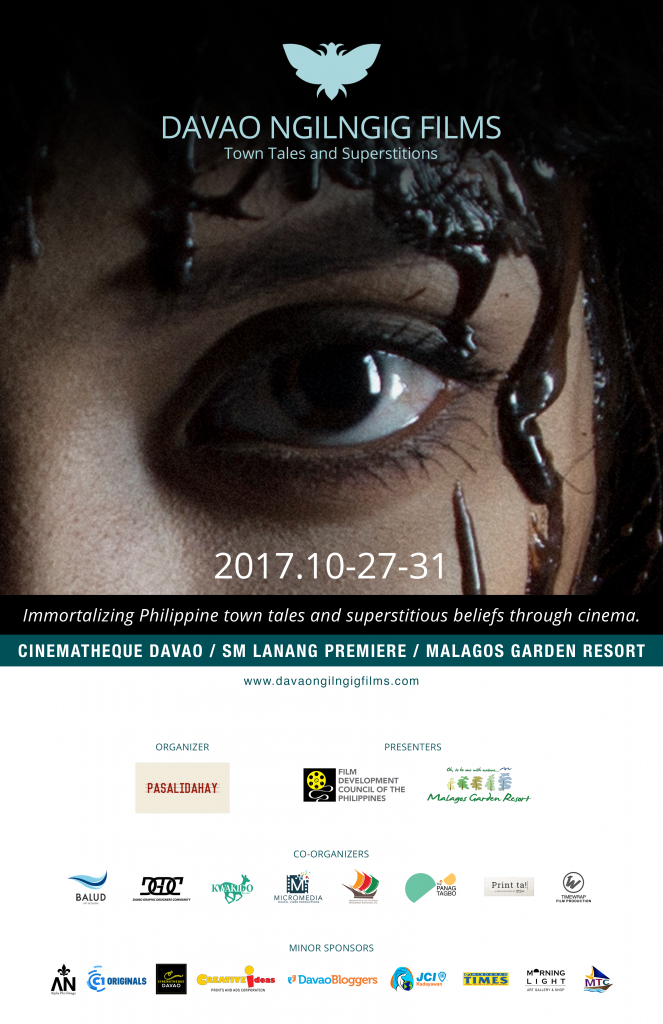 The Davao Ngilngig Film Festival 2017 is organized by Pasalidahay in partnership with the Film Development Council of the Philippines and co-presented by Malagos Garden Resort.
Panagtagbo
The film festival will open with "Panagtagbo," a multi-platform art event. Panagtagbo includes an art exhibit, a zine launch, and a small press expo from October 29 until November 12 at the Morning Light Art Gallery and Shop.
Pasalidahay's Angely Chi is the art exhibit curator. Panagtagbo will feature works by Davao-based artists Dave Ibao, Resa Embutin, Shievar Olegario, and Eric Ibasco. Members of the the Davao Graphic Designers Community will also showcase their works. Works by Caviteños Rasel Trinidad aka Dr Karayom and Tyang Karyel and by Cebuano street artist Soika will be on display, as well.
Panagtagbo zine, edited by Janna Moya, will featured "ngilngig" stories and poems by young Davao writers. It will be launched on October 29 during the opening of the film festival.
Davao Ngilngig Film Festival 2017 Entries
This year's Ngilngig Film Festival has three film categories: Davao Ngilngig Films, Sa Dako Pa Roon, and Bonfire Stories.
This year's Davao Ngilngig Films are:
BAHIN by Jomar M. Ebus
BWESITA by Louis Usaraga and Melchor Cabangbang
DALINGSIL by Jamillah Natividad
DISIPLINA by Rod Marc Abrina
MEOW by Breech Asher Harani
TAGUAN by Earle Galindo
TAKBO by Rikki Torres
TAMBAG by Alecs Mari Ballarta
Also featured during the film festival are Ngilngig Films by Filipino indie filmmakers in the Sa Dako Pa Roon category:
A BIRTHDAY TREAT by Amaya Han, Cebu
CHONG-AS by Rojie Somera & Jette Palicas, Kalinga
ELMO by Andrian Rey B. Manapil, Bukidnon
EXPERIMENTAL FOREST by Angelica Gamolo, Cebu
PARA SA MGA NI BIYA by Mac Kianro and Maki Calo, Cagayan de Oro City
PEÑARANCIA by Gab Mesina, Manila
SIN-O ANG TIKTIK by TM Malones, Ilo-ilo
ANG IKADUHANG PAGBALIK by Jeffrie Po, Cagayan de Oro City
LAPPAW by Lovely Jan M. Cadauan, Echague, Isabela
LUBONG by Marvin Gabas, Manila
MORU by Edmund Telmo, Ozamiz City
OYAYI by Darryl Yap, Zambales
TAMIAW by Robert Christian Diaz, Valenzuela
And from the participants of the Ngilngig Film Fest Camp are Bonfire Stories:
ANG PAG-ABOT Lumpia Productions
BALBAL Mayora Films
PANABI Limbo Productions
UROM 1001 Productions

There is no shortage of fright, intrigue, and mystery from this year's extensive list of entries. The titles alone are enough to get your imagination into an overdrive. Aren't you excited to know the stories behind these titles?
Ticket Outlets
You may now get your tickets to these films at the following ticket outlets:
Or you may reserve your tickets online at www.davaongilngigfilms.com/ticket.
Partners and Sponsors
DAVAO NGILNGIG FILM FESTIVAL is organized by Pasalidahay.
Co-Organizers
Balud Art Network, Davao Graphic Designers Community, Kwakid-O Film Distribution, Micromedia Digital Video Productions, Mindanao Film and Television Development Foundation, Inc., Print Ta! by Alleycat Tea House, The Panagtagbo, and Timewrap Film Productions
Festival Partner
Film Development Council of the Philippines
Presented by
Malagos Garden Resort Davao
Minor Sponsors
Cinema One Originals, Cinematheque Davao, Creative Ideas Prints and Ads Corporation, Davao Bloggers Society, Morning Light Art Gallery and Shop, JCI Kadayawan, Mindanao Travel Channel, Mindanao Times, and State of Mind Productions, Inc.
Donors
Alpha Phi Omega – Lambda Nu Chapter, Aguus Initiative, Balik Bukid Farm and Kitchen, Davao Light and Power Co., Inc., Energy FM Davao 883, Monster Radio BT 99.5, Oya Film Productions (Limbaga Mark), and SunStar Davao
Supporters
Alleycat Tea House, GANA, ISDA, Makeup by Xana, Swito Digital Storytelling Philippines, and Taichou Izakaya
Don't be left out! Be enchanted by our homegrown horror stories and tales, only at the Davao Ngilngig Film Festival For more information, visit their site at www.davaongilngigfilms.com. To be updated, follow them on Facebook at https://www.fb.com/DavaoNgilngigFilms and on Instagram @ngilngig.