2017 has definitely been an exciting year for Davao Bloggers Society. Trips, events, workshops, shoots, collaborations… there was no shortage of memories and this Saturday, we will celebrate all these at the Davao Bloggers Grand Christmas Ball dubbed as "'Tis a Grand Christmas Ball to Remember." It is our largest Christmas Party yet and it is all thanks to the brands, companies, agencies, and friends who have supported our organization.
The Davao Bloggers Grand Christmas Ball 2017 is co-presented by our Official Telecom Partner SMART Communications and by ASUS Zenfone.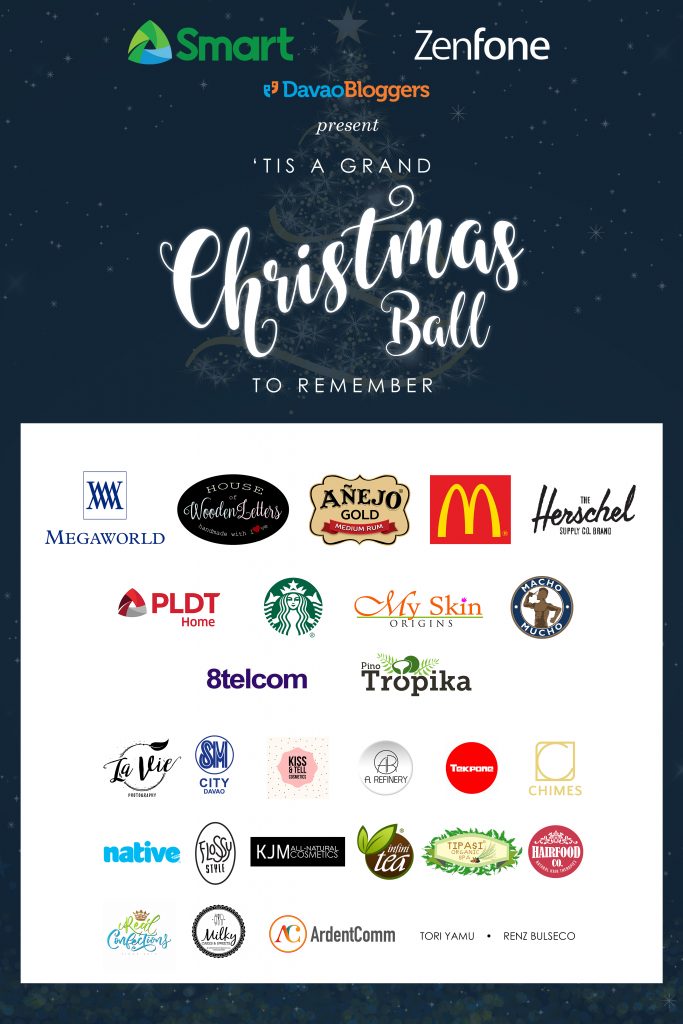 House of Wooden Letters will be providing trophies for all the winners of the Davao Blog Awards.
SMART will present the Blogger of the Year Award. And the Best Tech Blog will be presented by Asus. Davao Blog Awards is also sponsored by Ardent Communications. For the complete list of finalists, check this link.
Añejo Gold Medium Rum, ang rum na sakto lang ang tama, is the event and the After Party's Official Drink Sponsor.
Megaworld, the Philippines' pioneer of the LIVE-WORK-PLAY-LEARN integrated urban townships is also a proud sponsor the Davao Bloggers Grand Christmas Ball.
McDonald's will be giving away Gift Certificates to all event attendees.
And The Herschel Supply Co. Brand bags will be up for grabs as raffle prizes.
PLDT Home, My Skin Origins, Starbucks, Macho Mucho, 8Telcom, and Pino Tropika are also sponsoring the event. So expect giveaways and prizes from these brands.
More surprises await our beautiful attendees from our sponsors SM Supermalls, Kiss & Tell Cosmetics, A.Refinery, Tekpone, Chimes Boutiques, Native Shoes, Flossy Footwear, KJM All Natural Cosmetics, infiniTEA, Tipasi Organic Spa, and Cacai Brush by Hairfood Co.
La Vie Photography is the event's Official Photography and Videography sponsor.
Real Confections and Milky Cakes and Sweets will be providing scrumptious desserts for all.
Tori Yamu and Renz Bulseco are also sponsoring the event.
With no shortage from brand partners, sponsors, and supporters, Davao Bloggers and event guests will definitely have a memorable night at the Davao Bloggers Grand Christmas Ball on Saturday, December 2.
For updates on the DBS Grand Christmas Ball, follow us on social media: http://www.fb.com/DavaoBloggers on Facebook, @DavaoBloggers on Instagram, and @DavaoBloggers on Twitter. We will also be using the hashtags #DBSGrandBall2017 on all social media platforms so check that out.
Don't forget to subscribe to our Youtube Channel at http://bit.ly/DavaoBloggersTV.