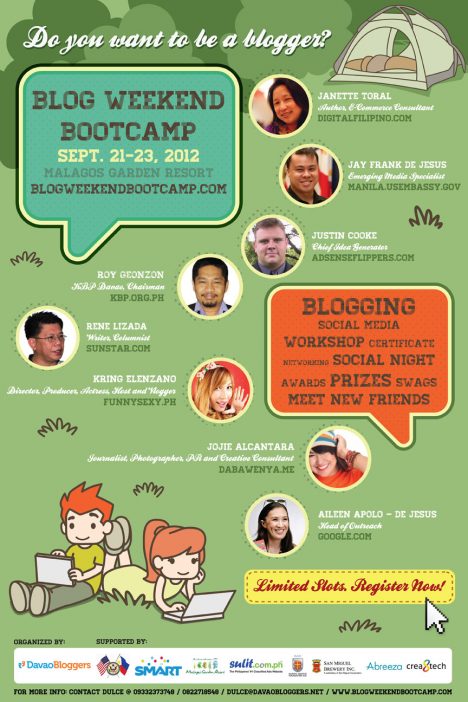 Davao Bloggers, the official blogging organization of the Davao region, announces Blog Weekend Bootcamp, a 3-day live-in conference with intensive hands-on workshop (Blogathon) that delves into the facets of blogging, creative writing, video blogging, photo blogging and Social Media. It is an excellent opportunity for bloggers of all skill levels as well as non-bloggers who want to learn the best blogging and Social Media practices while utilizing the available tools for creating an effective online presence.
Happening on September 21 – 23, 2012 at Malagos Garden Resort, Calinan, Davao City, BWB also aims to educate the participants on how to leverage the power of Social Media for positive social change and responsible online engagement. This stay-in workshop will include forums, mentorship exercises and will be punctuated with a socials night on its final day.
The Blog Weekend Bootcamp boasts of rich coverage of the key issues in blogging and Social Media today. Speakers are as follows:
Janette Toral – Author, E-commerce Consultant
Jay Frank de Jesus – Emerging Media Specialist, U.S. Embassy
Justin Cooke – Chief Idea Generator, Adsense Flippers
Jojie Alcantara – Journalist, Photographer, PR and Creative Consultant
Rene Lizada – Writer and Columnist
Aileen Apolo – de Jesus– Head of Outreach, Google Southeast Asia
Roy Geonzon – KBP President – Davao Chapter
Kring Elenzano – Director, Producer, Actress, Host and Vlogger
"It's more than just one-of-a-kind, it's truly the first of it's kind here in Davao city. We wanted to raise the bar of blogging—in terms of content, ethics and maybe even monetization—in this side of the country. We felt that it's time to launch a truly meaningful and educational event especially now that our members are growing exponentially… and the appreciation for blogging has now approached mainstream consciousness." This is a statement by Dulce Rose Lada, President of the Davao Bloggers. Ms. Lada, along with the other Davao Bloggers officers, is spearheading the event planning and coordination of the Blog Weekend Bootcamp.
On top of the blogging workshop, there will also be an exchange of ideas during Social Good Summit Meetup, as part of the global conversation happening simultaneously around the globe.
This event is made possible by the support of the U.S. Embassy Manila and our sponsors: Smart Communications, Malagos Garden Resort, Sulit.com.ph, Abreeza Mall, San Miguel Brewery, Ramon Aboitiz Foundation, Inc., Crea8Tech Solutions and Kaiser Webs Solutions.
Our online media partners are Web Geek, Choose Philippines, Iligan Bloggers Society, Bukidnon Photographers and Bloggers Society, CDO Bloggers, Cebu Bloggers Society, Soccsksargen Bloggers, Tech in Asia and Living Room.
Register at: http://blogweekendbootcamp.eventbrite.com/
More details: http://www.blogweekendbootcamp.com/
Facebook Page: https://www.facebook.com/BlogWeekendBootcamp
It is a one-of-a-kind blogging experience that you should not miss! See you there!