Exhibition and events management company Worldbex Services International (WSI) is bringing a new kind of trade expo in Davao City, this time focused on enjoying the wonders of the Philippines. Travel and Leisure Expo Davao aims to promote adventure, hassle-free booking services, and one-of-a-kind leisure offers to Davaoeños and tourists.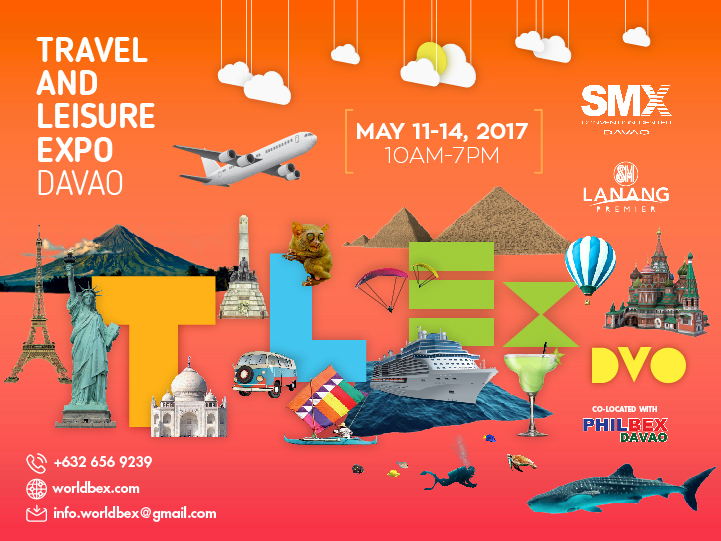 TLEX DVO was conceptualized because of the increasing trend in tourism and travel in the country. And because of the popularity of President Rodrigo Duterte, Davao City has been thrust into the spotlight for local and international tourists to check out. This is the reason why Worldbex brought its first Travel and Leisure Expo to Davao instead of launching it in Metro Manila.
Check out this teaser video of Travel and Leisure Expo Davao:
Get your bucket list ready as the first Travel and Leisure Expo in Davao is set to happen on May 11-14 at the SMX Lanang. #TLEX

Posted by Travel and Leisure Expo on Friday, February 3, 2017
What To Expect in Travel and Leisure Expo Davao
If you're a frequent traveler or a casual backpacker, prepare to enjoy some of the best travel and leisure offers at TLEX DVO. Some of the exhibitors that will be present during the four-day event include travel agencies, tourism organizations, theme park and entertainment venues, airline companies, tour operators, cruise liner companies, hotels, and resorts.
The booths for TLEX DVO will be showcased alongside exhibitors for Philbex Davao 2017
Davao Bloggers Society at TLEX DVO!
As one of the minor sponsors of TLEX DVO, Davao Bloggers Society will be visible during the four-day expo! Visit our booth as we promote our blogging community. We will have a program slot on May 13 (Saturday) afternoon, as we talk about travel blogging, fashion tips for traveling, and tech gadgets that will make your next trip amazing.
Mark your calendars for Travel and Leisure Expo Davao on May 11-14, 2017 at SMX Convention Center, SM Lanang Premier. Exhibition will run from 10:00 AM to 7:00 PM.